True Media Roundtable: 2020 Changes and Challenge
Published by: Chris Jantzen on 01-10-2021
Tweet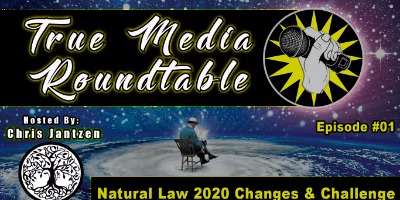 Chris Jantzen
Chill Will Keller
Aaron Butler
Philip Roy
Lawrence Wasson
Eddie Lebron
William Adams
Andy Brooksher
Researcher and presenter Mark Passio of WhatOnEarthIsHappening.com ran a 23 week course this year for folks interested in learning the technical aspects of using a computer and the internet. The hope was to give students who have the knowledge to spread the truth far and wide on the internet. Recently the "How To Become The True Media" webinar came to a close. Many students are feeling ready to begin presenting publicly.
This discussion is made up of graduates from the True Media course who are seeking to now use their skills and teach Natural Law to others. Each member of the class who showed up for this roundtable discussion brought unique thoughts and ideas to share.
Our hope is to continue this discussion and offer others to join in the future. What did 2020 mean to you? What are the biggest problems and challenges for people who care about truth and freedom? What do we do with the knowledge we have discovered? These are a few of the tricky questions that we tackled in this episode.
Thanks to Mark Passio and his team for all the hard work and dedication they have put into The Great Work. Now it's up to all of us to continue that legacy.
Keywords:
roundtable, media, passio, students, graduates, natural law